There are a variety of some small group curriculums available which lead a small group in study on the topic of work. Here are two I have worked on.
The Work Exchange: 6 Life-Changing Strategies For Empowering Your Work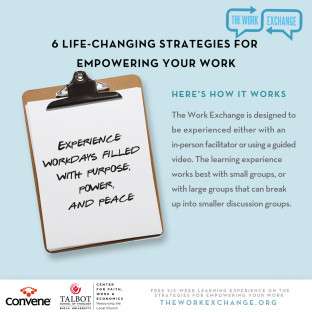 Frustrated, exhausted and ambivalent at work? Need purpose, power, and peace? The Work Exchange small group curriculum brings 60+ voices from business, academia, and the local church will show you how to work differently and make a difference.
This small group study was developed and produced with Convene Corporation and Jim Woodward, its author.
There is a lot of published material about:
understanding the theology of work, in other words, why we should work differently as believers
finding God's sweet spot for the work you choose to do
adding to work what you do at church (Bible Study, prayer, evangelism)
Yet, there seemed to be a significant shortage of help for believers about how to do their actual work differently.  Most of the existing content is focused on the theological basis and doctrine of work, but few address the integration of one's habits and disciplines with one's work, primarily how it shapes imagination and decision making in one's work.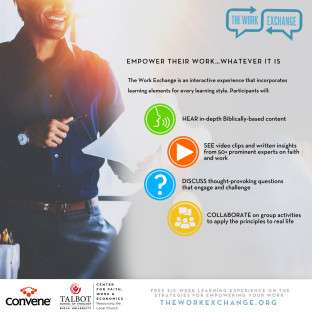 This curriculum has three unique distinctions:
It includes a diversity of voices and leading organizations across the Body of Christ.
It is a joint project between business and academia, breaking down the silos that have existed in the faith and work movement.
It disciples people in their work life and addresses deeply held limiting beliefs so individuals empowered to walk this out in life.
The curriculum is available at no charge and in two formats:
Video driven
In person with a facilitator
Take a look around and enjoy these resources at no charge! The Work Exchange website has resources on how to do this in your local church or hold a small group or Bible study in your place of work.
♦ Visit The Work Exchange Website  |  Download Brochure  |  Watch Course Trailer Video ♦

---
Christians In The Workplace: Equipping You to Live Out Your Faith at Work
The Christians in the Workplace small group curriculum was developed in conjunction with Azusa Pacific University.
This curriculum not only covers the topic of work and one's worklife, but it is designed to be an option for small groups that meet in the workplace.
Christians in the Workplace:  Equipping You to Live Out Your Faith at Work has been carefully designed to energize and equip you to follow Christ as you fulfill your job description. Each lesson offers you the opportunity to transform the way you perform your work every day.
Sessions include:
God Calls and Equips Us to Do Our Work
Work as Ministry
Work as an Opportunity for Spiritual Growth and Maturity
Work as a Means to Cultivate Moral and Ethical Behaviors
Work as an Opportunity to Witness
Putting it All Together
Christians in the Workplace is available from Saddleback Resources.